Efficiency improvement in MROs
In the summer of 2015, a brand-new American Airlines 787 Dreamliner was badly battered by hail on a flight from Beijing to Dallas. The hail-damage was so extreme that the plane had to immediately turn back.
At the time, MRO industry insiders were quick to recognize that the damage '…had to be a huge pain…and some poor soul had to map those dents.'
Aircraft need to be assessed for structural damage, during extreme unscheduled events like the Beijing hail-storm, and during routinely scheduled maintenance activities. To ease this tedious and highly regulated process, we designed dentCHECK – a tool built from the ground-up, to comprehensively address the problem of dent mapping and measurement.


The Right Tool for the Job
8tree's dentCHECK system with its portable, cable free design is suitable for working at the plane, in the hangar and on the tarmac. The system is optimised to fit in the workflow of mapping dents on the aircraft skin. dentCHECK can be setup within a minute, is very easy to use with one-button operation and provides immediate feedback. The SRM-compliant dent-measurements are projected right-back onto the surface, in real-time. This empowers the operator to make an instant 'go/no-go' decision. Furthermore, with the click of a button, results are permanently saved for record-keeping, and wirelessly transmitted to an airline/MRO's secure servers.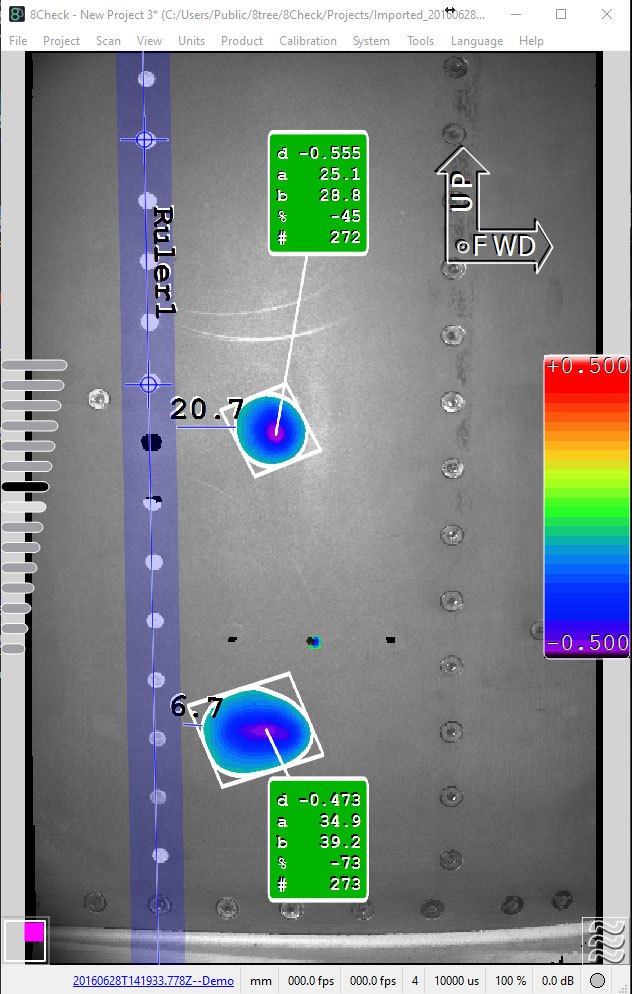 Bringing the Airplane into the Office
After gathering dent-map data, operators typically have to produce an SRM-compliant report for permanent record-keeping. This has traditionally been a very time-consuming manual process, whereby operators translate their manual measurements into manually-transcribed records. It is well accepted that the entire process is prone to subjectivity and human-error. This is streamlined with dentCHECK. After the dent-map results are wirelessly transmitted to an operator's workstation, the dentCHECK desktop reporting software can be used to generate an SRM-report at the click of one-button. Additionally, the dent-map results can be easily annotated to highlight greater clarity e.g. measurement orientation, distance to nearest frame/stringer, etc. This permanent digital-record can be easily shared with colleagues or OEMs for repair approval.


YOU MIGHT ALSO LIKE THESE